Orange Cinnamon Ginger Crisps
Ingredients: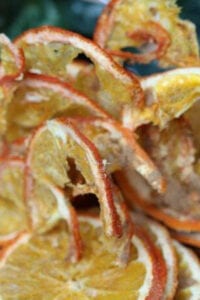 4 – Large Navel Oranges
Ceylon Cinnamon
Organic Powered Ginger "nuts.com"
Directions:
Rinse and dry your oranges. Do not peal the skin of your oranges. It is part of this recipe. Slice your oranges using a food slicer, or by hand. If you choose to slice your oranges by hand than refer to my pictures for example on how thin to slice the oranges.
When using a food slicer, you might have pieces that break off. Save those pieces.
Place your orange slices on a dehydrator tray using parchment paper. Lay the orange slices in rows. Do not overlap them. If you have broken pieces place those on a separate tray with parchment paper. You want those to overlap. During the dehydration process the broken orange pieces will form together creating crispy treats or a beautiful centerpiece. Sprinkle the oranges with the cinnamon, and the ginger powder.
Dehydrate at 115 degrees for 14-20 hours. Flip halfway through the dehydrating process. At that time remove the parchment paper from the dehydrator tray. Depending upon where you live, you will need to check your treats every so often. Stop dehydrating once you have achieved your desired crunchiness. These treats will last on the countertop at room temperature for several weeks. Make sure they are crispy if you are going to leave them out at room temperature. Otherwise, they might start to grow mold. If they become soft just put them back into the dehydrator and crisp them back up.
Equipment needed:
Dehydrator