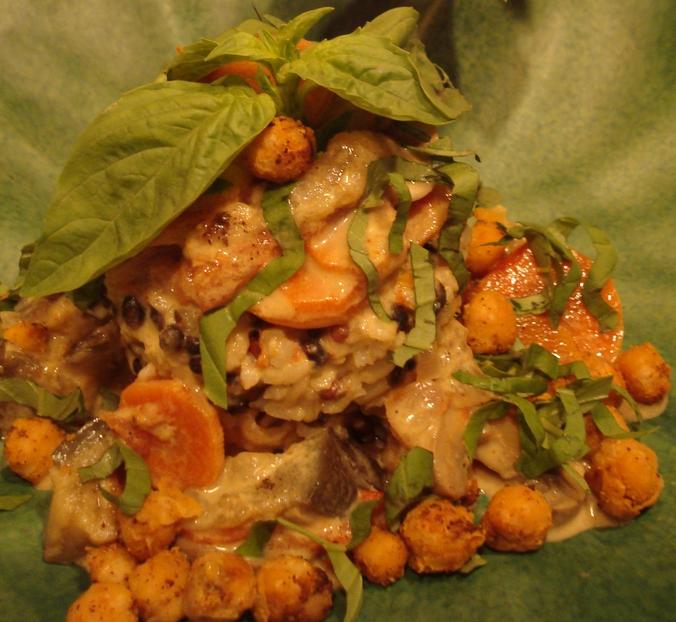 Chickpea Coconut Curry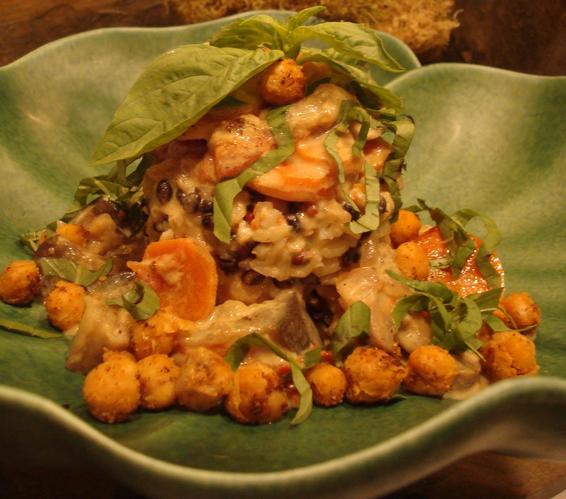 Chickpea Ingredients:
2 15oz. can organic chickpeas
4 tbsp. olive oil
1 tsp. onion powder
½ tsp. garlic powder
1 tsp. Mediterranean spice blend
2 tbsp. nutritional yeast
1/8 tsp. Himalayan sea salt
¼ tsp. red pepper
Directions:
Rinse and drain the chickpeas. Place into a large bowl and pour 2 tbsp. olive oil on top. Hand mix until chickpeas are coated with oil. Place all of the ingredients into the bowl and hand mix together. Make sure the chickpeas remain whole in the process. Take a large frying pan, pour 2 tbsps. Olive oil into the pan and heat until hot. Pour the chickpeas into the pan; reduce the heat to medium high. Brown the outside of the chickpeas stirring occasionally. Once they are browned, remove them from the heat and set aside.
Note: This dish is best served with a brown rice medley. Before continuing preparing the curry, it is wise to begin cooking the rice in order to be freshly made as soon as the curry is finished.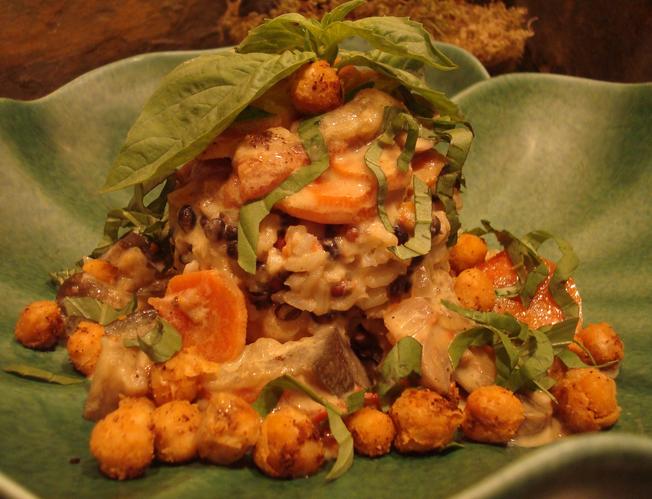 Curry Ingredients:
8 oz. white mushrooms
2 large tomatoes
4 cups 1/8" sliced carrots
3 cups basil
2 cans 13.66 oz. organic coconut milk
1 medium sized sliced yellow onion
1 1/2 tbsp. olive oil
1/8 tsp. red pepper
1/8 tsp. Himalayan sea salt
1 tbsp. lime juice
1 tbsp. agave
Directions:
Place the olive oil into a frying pan and heat. Add the onions and brown them. Set aside. Slice the mushrooms into 1/8" thick slices. Cut the tomatoes into cubes. Cut the basil leaves into strips. Add the coconut milk to the pan with the onions in it. Add the curry powder, red pepper, salt, agave, and lime juice to the pan and mix evenly. Add the tomatoes, mushrooms, and carrots to the pan. Turn the heat up to medium high until it reaches a boil and immediately turn the heat to simmer and cover the pan. Stir occasionally for 10 minutes. Do not overcook the vegetables. Remove from the heat when the vegetables are still a little crispy. Take a decorative plate and place the rice onto the plate. Top with the chickpea curry and garnish with basil strips.
Serves 6 to 8. Best when consumed immediately. Will last for 3 days in the refrigerator in an air tight container.