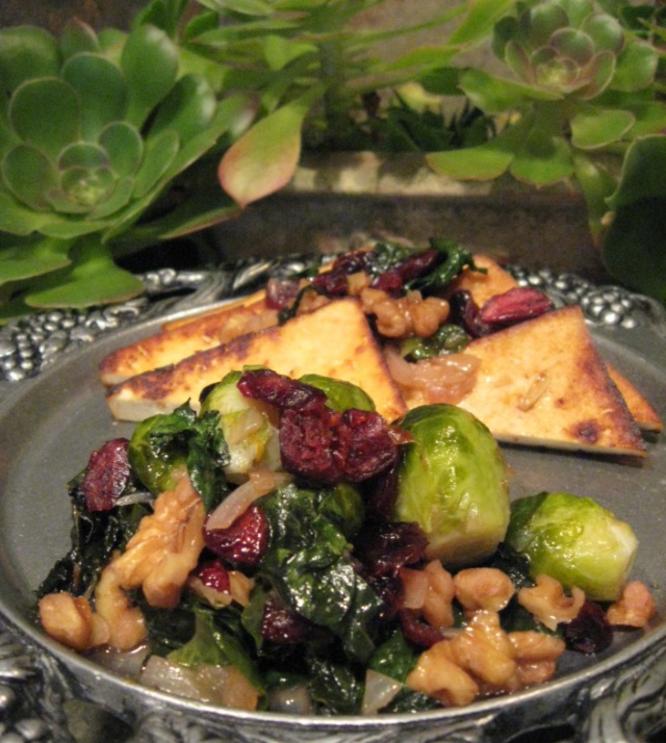 Vegan Alert! Fragrant and filling, this stir fry makes a fabulous meal in itself. Cranberry and Orange combine perfectly, creating simplistic elegance sans a plethora of ingredients. This is a very simple dish to whip up quickly and easily after a busy day. I call it Cranberry Kale Stir Fry.
Cranberry Kale Stir Fry
Ingredients:
1 16oz. organic tofu pkg. (extra firm)
3/4 cup olive oil
½ cup orange muscat champagne vinegar
1 tbsp. agave
1 tsp. orange zest from a blood orange (can substitute regular orange)
1 tbsp. orange juice from blood orange
1/8 tsp. Himalayan sea salt
16 oz. organic Brussel s sprouts
1 red onion
½ cup dried unsweetened cranberries
½ cup chopped soaked and dehydrated walnuts
1 large bunch of dyno kale (remove both stems and veins)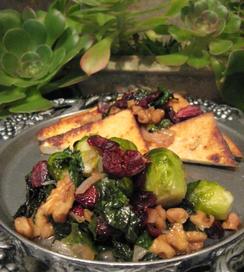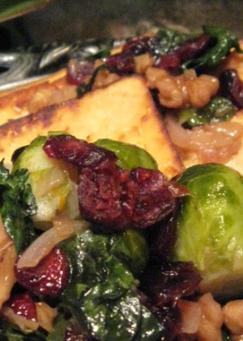 Directions:
Place ¼ cup olive oil, agave, vinegar, orange zest, orange juice, and salt into a small bowl and whisk together. Set aside. Take the Brussels sprouts and rinse thoroughly. Place them in a steamer and steam for 5 minutes. Make sure they are only al dente. We are trying to keep them as raw as possible. Cut the tofu into ¼ " slices equaling 10 slices lengthwise. Take each half and dip into the marinade sauce and place the slices into a large Pyrex baking pan. After all of the slices are in the pan, pour the marinade sauce over all of them. Cover and let marinate on the counter for 20 minutes. Make sure to save the marinade sauce for future use in the recipe. Take a large skillet and put 3 tbsp. olive oil in the bottom. Turn the heat onto medium. Saute the slices in the pan. Make sure that the pan is not overcrowded so that when they are flipped they do not get broken. Brown all of the slices on both sides. Place the slices into a Pyrex baking dish and cover with foil. Place it in the oven on low to keep it warm. Take the large skillet and place 3 tbsp. olive oil in the bottom. Slice the onion into slices. Cut the slices in half and separate into julienne pieces until there is ½ to ¾ cup of onion. Saute until soft. Add the kale and brussels sprouts to the onions and saute on low covered for 10 minutes, stirring occasionally until the kale is done. Add the cranberries, walnuts, and remaining marinade sauce into the pan. Continue saute for 1 minute on low. Make sure the marinade sauce is heated and all of the ingredients are mixed evenly. Remove the tofu from the oven and cut each piece diagonally. Take a decorative plate and place the tofu on the plate. Refer to the photo for arrangement. Spoon the veggies onto the top of the tofu and place a mound of veggies on the plate itself in front of the tofu.
Serves 4