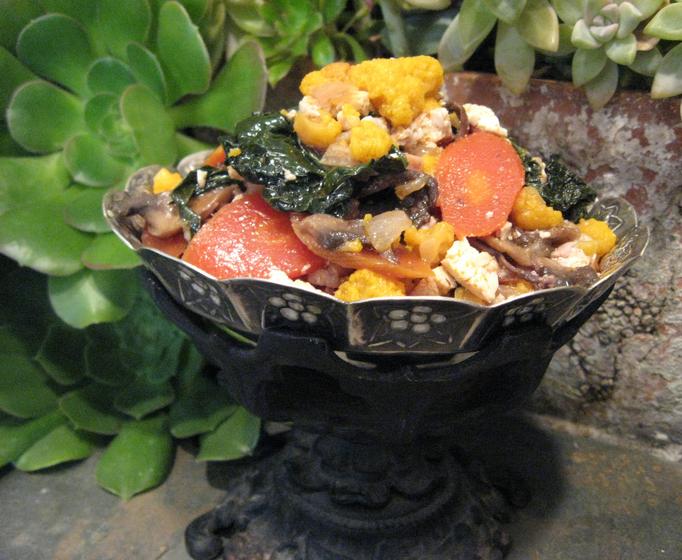 Cauliflower Masala is a colorful addition to any table. It is a creative use of tandoori masala spice. Vegetables and tofu blended together make a wonderful, healthy side dish for dinner. This dish alone makes a great lunch entree. Perfect for vegetarian diets, this recipe is posted on Raw Gourmet La Vie. Enjoy your weekend and Bon Appetite!
Cauliflower Masala
Marinade Sauce Ingredients:
¼ cup olive oil
¼ cup agave
2 tbsp. organic tandoori masala seasoning
1 tbsp. lime juice
1/8 tsp. Himalayan sea salt
½ tsp. onion powder
½ tsp. garlic
¼ tsp. red pepper
Directions:
Place all of the ingredients into a large measuring cup. Whisk until evenly distributed and set aside.
Main Ingredients:
1 14oz. pkg. of extra firm sprouted soybean tofu
4 tbsp. olive oil
4 cups orange cauliflower florets
3 large carrots
1 bunch dyno kale
3 cups white mushrooms
1 cup sweet onion
1 tbsp. finely diced garlic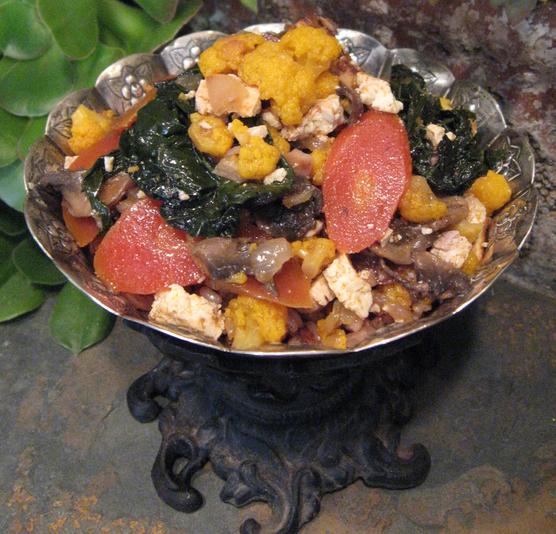 Directions:
Place the tofu on a block. Cut it into ¼ inch slices. Place the slices flat into a baking pan. Pour the marinade sauce over the tofu. Make sure the tofu is coated evenly with the sauce and let sit for 30 minutes. Pour the marinade sauce into a measuring cup and set aside for future use. Place the olive oil into a large frying pan and turn on heat to medium and add the tofu. Slightly brown the tofu on both sides. After the tofu is browned, cut into bite sized pieces. Peel the carrots and cut into diagonal slices. Take the cauliflower and remove the stems. Gently cut the stem from the flower creating mini florets. Make sure the florets are not broken in order to use for final presentation. Remove the long stems from the dyno kale. Tear the leaves into medium sized pieces. Remove the stems from the mushrooms and slice them evenly. Dice both the onion and the garlic. Place 2 tbsp. of olive oil in a large stir fry pan. Turn the heat up to medium high and get the oil hot. Add the vegetables and stir until al dente. Pour the marinade sauce over the vegetables. Add the tofu to the mixture and gently toss for 1 minute until evenly distributed.
Can be served over your choice of any organic rice or noodles. Serves 4.