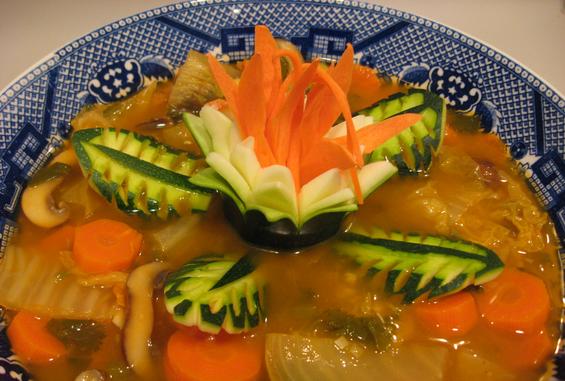 Spicy Thai Rice Soup
Ingredients:
8 cups organic vegetable broth
¾ cup diced green onion
¾ cups sliced shitake mushrooms
2 cups peeled sliced carrots
¼ cup finely grated ginger (micro plane grater)
1 ½ tbsp. chopped garlic
1 cup chopped cilantro
15 Chinese chopped cabbage leaves
2 ½ tbsp. finely chopped lemon grass
2 tbsp. sesame oil
½ tsp. Himalayan sea salt
½ tsp. onion powder
4 cups cooked organic brown rice
Directions:
Note: Cook the rice separately and keep to the side. Do not add it to each individual bowl until ready to serve.
Place the broth, onions, mushrooms, carrots, ginger, cilantro, cabbage leaves, lemon grass, lemon juice, salt, onion powder, and 1 tbsp. sesame oil into a soup pan. Turn the heat on high and bring it to a boil. Reduce the heat to simmer for 30 minutes. Take the remaining oil and place it into a sauté pan with the garlic. Sauté until golden brown. Add the garlic to the soup pan. Simmer for 30 minutes. Take the serving bowls and place some brown rice into each bowl. Pour the soup over the rice and serve.
Will last 3 to 5 days in the refrigerator. Will last up to 1 month in the freezer.