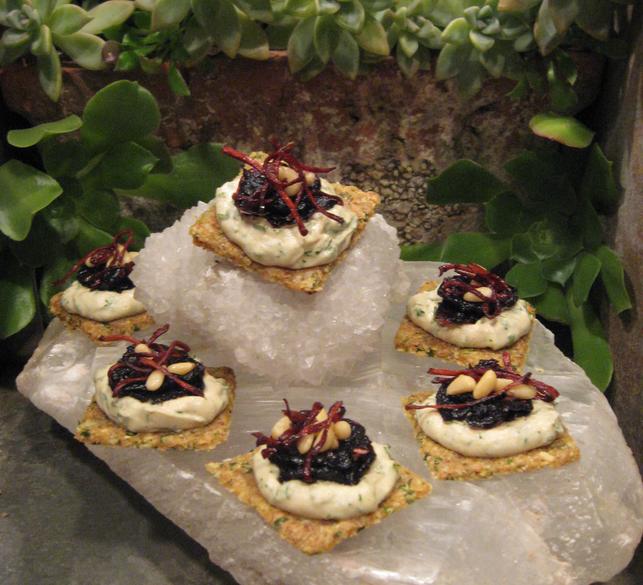 I invited family over for dinner a while back and needed a good hearty appetizer to serve. I knew they would need something to munch on while I was getting dinner on the table. Several complicated dishes were on the menu so it was going to take a few minutes to serve the meal.
Sure enough, the first couple of guests were 20 minutes early. They couldn't wait for the munchies to appear. Of course I couldn't resist leading them up to all this with my descriptions of my daily new culinary delights.
Perfectly fitted for such an occasion, this ensemble hit the spot and my family happily shared stories with each other, enjoying each other's company until dinner was served.
Fresh arugula flavors both the cheese and the crackers. Cashews and nutritional yeast lend hardiness while marinaded beet and carrot garnish pair perfectly with the other seasonings.
Arugula Ensemble
Ingredients:
1 cup cashews (soaked overnight)
¼ cup filtered water
½ tbsp. lemon juice
1 tbsp. chopped shallots
½ tsp. fresh garlic
¼ tsp. Himalayan sea salt
1/8 tsp. black pepper
2 tbsp. nutritional yeast
1 tbsp. soy lecithin powder
¼ cup finely chopped arugula
Directions:
Drain and rinse the cashews. Place cashews, water, lemon juice, shallots, garlic, salt, pepper, and nutritional yeast into a high speed blender and blend until creamy smooth. Place the lecithin into a coffee grinder and grind it into powder. Turn the high speed blender on a low setting and pour in the lecithin powder. Blend until even. Pour the mixture into an air tight container. Add the arugula and mix by hand until evenly distributed. Place into the refrigerator for 1 hour.
Servings are ¾ cup each. Will last in the refrigerator for 3 to 4 days.
Assembly:
This ensemble requires 2 more recipes to complete it. They are the Marinated Beet  Garnish recipe and the Arugula Crackers recipe.
Place a cracker on the chopping block. Put a tsp. of Arugula cheese on top of the cracker. Then top with the marinated beets and sprinkle with some pine nuts to place the finishing touch on it. Just assemble as many as needed. The crackers, cheese, and garnish must be stored separately.
The cheese will last 3 to 4 days in the refrigerator if stored in an air tight container.