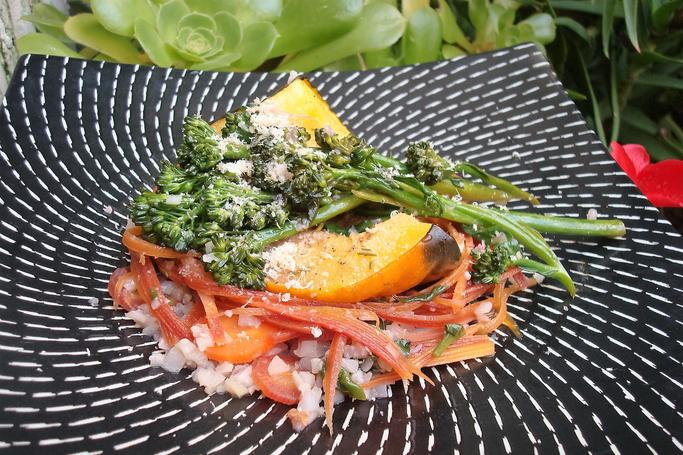 Acorn Squash Suppreme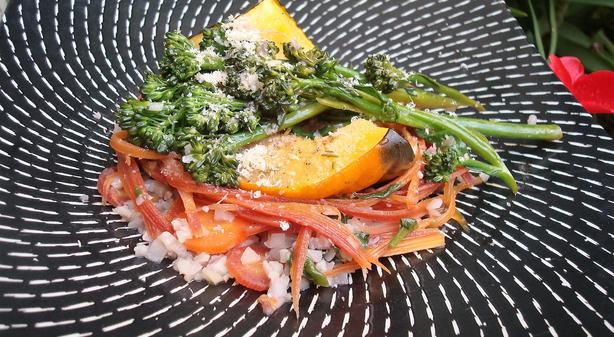 Acorn Squash Ingredients:
1 acorn squash
1 tbsp. olive oil
1/8 tsp. black pepper
¼ tsp. onion powder
¼ tsp. garlic powder
1/8 tsp. Himalayan sea salt
1 tbsp. fresh rosemary
Directions:
Preheat oven to 350 degrees. Cut the acorn squash in half and then in half again. You want 4 quarters. Place the squash into a pyrex baking pan. Drizzle the olive oil on the squash. Sprinkle on all of the dry ingredients evenly over the top. Cover the pan with tin foil. Bake in the oven for 35 to 40 minutes.
Garnish Ingredients:
1 cup vegetable stock
1 medium shallot
1 garlic clove
¼ tsp. Himalayan sea salt
1 heaping handful of organic baby broccoli
1 cup cauliflower rice
1 tbsp. maple syrup
1 tbsp. balsamic vinegar
3 organic carrots of many colors
10 raw almonds (presoaked and dehydrated)
1 heaping tbsp. olive oil
1 cup chopped baby spinach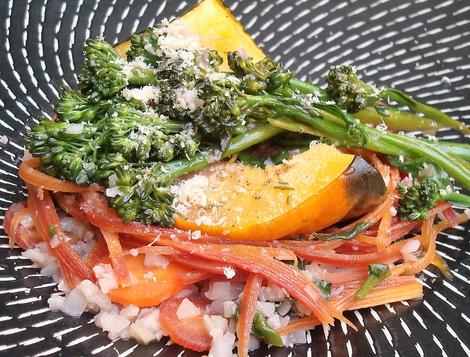 Directions:
Chop the shallot and garlic into fine pieces and set aside. Take the broccoli and rinse first. Then remove all of the thick stems. Shave the stems down if needed to thin them out. Take a julienne vegetable peeler and peel the carrots. Use the multi slicer on two of the carrots to make sure the slices are thin and uniform. Take the other carrot and julienne slice it. Chop the spinach into medium sized pieces. Cauliflower rice is easy to make. Take your Cuisinart and pulse the cauliflower until it is riced. You can also buy riced cauliflower at Trader Joes. Grate the almonds with a mandolin grater, making parmesan cheese. Set aside.
Put the olive oil into a large sauté pan. Sauté the shallots and garlic until slightly browned. Add the vegetable stock, broccoli, carrots, cauliflower, and spinach to the pan. Turn the heat on medium, cover, and let it simmer for 10 minutes. Stir gently with a spoon while simmering.
While the mixture is simmering, place the balsamic vinegar and maple syrup into a measuring cup and whisk them together. Add the salt and whisk into the glaze. Pour it over the vegetables in the pan, making sure to not break the broccoli. Do not allow the vegetables to overcook. You want them to be crispy al dente.
Assembly:
Take a decorative plate. Place the vegetables in the center forming a nest or bed for the acorn squash. Repeat the procedure 3 more times if serving 4 people. Place the squash on all 4 beds of vegetables. Then take the broccoli and place 2 to 3 pieces on each plate. Drape them diagonally over the top of the squash. Take the remaining sauce and drizzle it over the plates. Sprinkle the almond parmesan cheese over the top of each serving for decoration.
Serves 4